Community Health Workers integrated with improved health centers is a lifesaving combination
At Integrate Health, we believe that no child should die from a disease that can be treated. We exist to prove that a better standard of healthcare is possible and affordable, even in the world's most neglected communities. We have developed a primary healthcare approach that works, and we are working in partnership with the government to scale that approach and transform national healthcare systems, beginning in Togo.
Our Impact
Integrate Health is data-driven in everything we do.
Key metrics guide the Integrate Health model at every level. We collect data to determine our effectiveness, direct our focus, and evaluate our impact. We are never satisfied with "good enough" and constantly strive to improve. This approach is integral to our organizational culture and helps to save more lives.
Outcomes
Integrate Health's initiatives prevent illness and premature deaths. This means that before our program, 70 children out of 1,000 were dying before their fifth birthday. After 18 months of IH's program, this number dropped to 20. This observed 70% reduction encourages us that another reality for communities in Togo is possible. But there's still work to be done–that's why we're continuing our work and plan to reassess and report back annually.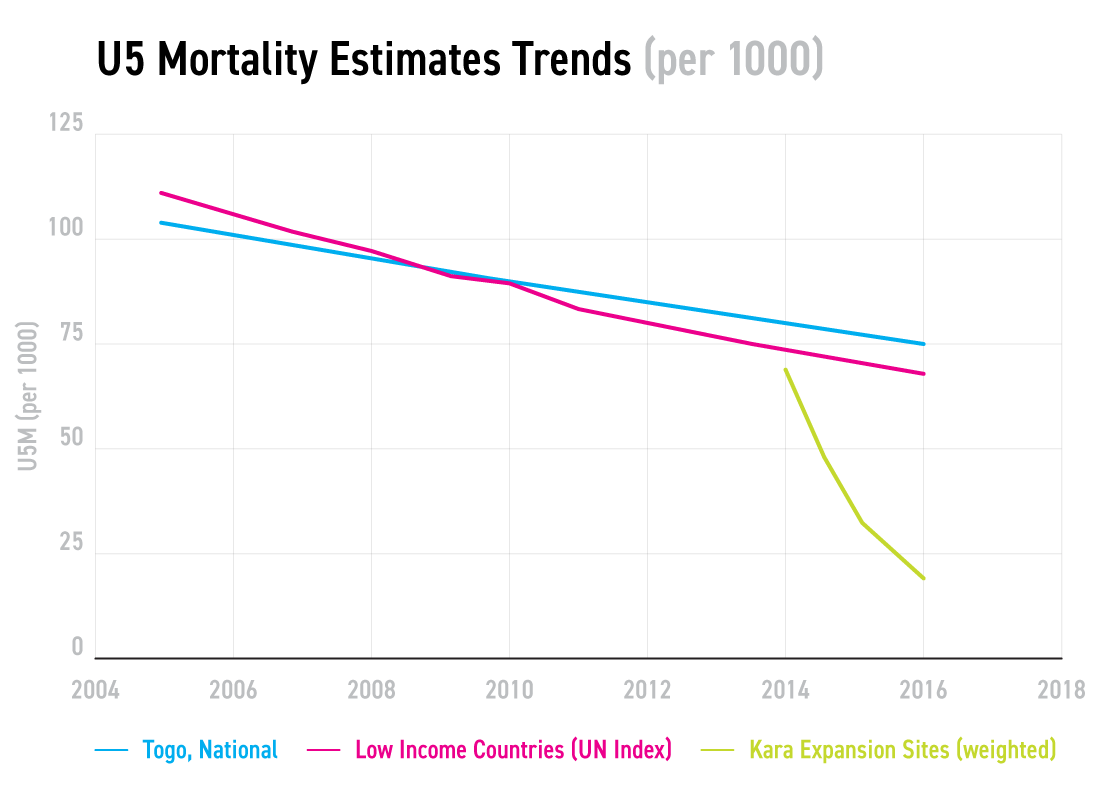 "I was traveling when my child got sick, and thanks to Integrate Health the child was cared for free and his health improved. The nurse came to visit my child at the house to check on the condition of my child."
"I delivered all of my children prematurely, but thanks to the careful follow-up of the Adabawere maternity, I carried my most recent child to term and delivered a healthy baby."
"Congratulations to the Community Health Workers because they do lots of good work, because my Community Health Worker cared for my child for free until he was healthy."

"Thank you to Integrate Health because they have greatly improved the health of the population."
"Thanks to Integrate Health all of our communities have achieved a notably low rate of infant and maternal mortality."
"Thanks to Integrate Health we have free water in the clinic."
"Thanks to Integrate Health our communities have become a hub, as people leave their neighboring villages to come and benefit from free care here."
"I was traveling when my child became ill and thanks to maternal and child health program, the child was treated free of charge and he was healthy again; moreover, the nurse visited to see the child at home and to see in what condition or environment the child lives."
"My daughter had a caesarean section and the child was hospitalized; thanks to Integrate Health, I did not pay for drugs or hospitalization."
"I always gave birth to premature children, but thanks to Adabawere's maternity with a good follow-up, I gave birth to my child at full term and in good health."
"Congratulations to the Community Health Workers because they do a lot of good work, because she took care of my child free of charge, who has recovered."
"Thanks to Integrate Health because it has greatly eased people's health."
"When my wife was referred for caesarean section, I would not know what to do at the regional hospital in Kara, without the help of Integrate Health. Thanks to the program I did not have to worry about my entire stay in the hospital."
"With the help of Integrate Health, communities are saving money to buy fertilizer because they are so relieved."
"Thanks to Integrate Health, all our communities have seen a significant drop in infant and maternal mortality."
"My wife gave birth at the rural health center and there were complications and she was referred to the regional hospital in Kara. Thanks to Integrate Health, I did not have any trouble to go because I was helped until the end I did not pay anything."
"Thanks to Integrate Health we have free water in the rural health center."
"Thanks to Integrate Health their communities have become capitals because people leave neighboring villages to come for free care."