September 11, 2018
Impressions of healthcare in Togo from a visiting pediatrician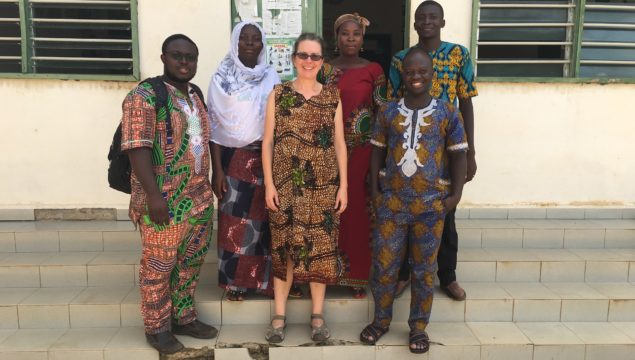 Dr. Kate Kasberger is an Oakland-based pediatrician and former Peace Corps volunteer.  She returned to Togo recently to help Integrate Health reinforce quality care in rural clinics. She generously shared her time, energy, passion, as well as, firsthand impressions of the experience below.
Before Togo had the internet, before Integrate Health existed, and before there was much recognition at the village level that HIV was real, I lived there as a Peace Corps volunteer. I returned to Togo a couple of times in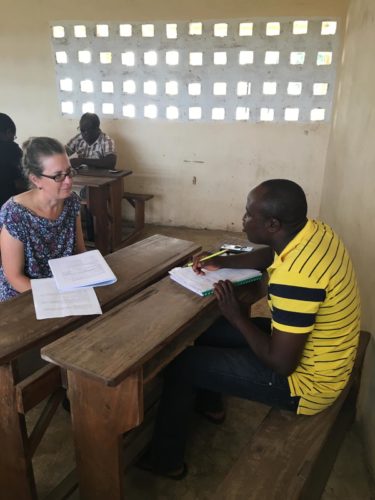 the first few years after I finished my service, but then life got more complicated. I went to medical school, did my residency, married, and had children. I started working as a primary-care pediatrician in an Oakland, CA clinic that serves immigrants from all over the world (including Togo!).
After ten years I found myself fighting burnout. My children were now older and a little more independent. I talked to my husband about doing volunteer work overseas and he was immediately supportive. Of course, I wanted to return to Togo. But I found no organizations that place volunteer pediatricians in Togo or Ghana, so I started looking elsewhere. I then thought to look for an NGO that wasn't seeking volunteer doctors but could use my skills and experience. Long story short, I just spent a month in Togo working with Integrate Health on reinforcing the quality of medical care provided in rural clinics.
Reconnecting with Togo after 16 years was deeply meaningful. I'd left before internet and cell phones and had gradually fallen out of contact with almost everyone. Wandering around my Peace Corps village and hearing the surprised cries, "Is that Akuvi (my village name)? Really?!?" There was genuine warmth and joy on all sides. Children had become parents, youth had become responsables, and some had moved on to good jobs in the cities. Unfortunately, I also learned that far too many of the young adults I'd worked with in the mid-1990s had passed away.
My village was in many ways exactly the same and completely different at the same time. There was the same red dirt road, the same rhythm of daily life, the same woman selling my favorite spicy beans and gari for breakfast. But I could text my family every day, people now had clean pump water instead of contaminated river water, and solar street lights lit the village at night. Less encouragingly, the village was littered with failed international donations – a water tower for the clinic that never worked, a bulldozer with weeds in its tracks, a food dryer that sat unused because there was no market for dried foods.
What was missing from those attempts to help the people in my village was the kind of partnership and long-term follow up that allows projects to flourish. Integrate Health has that long-term commitment to both the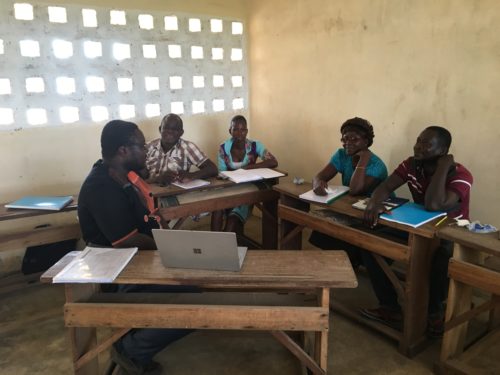 communities involved and the larger health system. I was there just a few weeks helping train staff in rural public clinics to comprehensively evaluate sick children and treat them according to national recommendations. These trainings were valuable – perhaps the first time a midwife has received any real training in child health care, even though she does medical consultations when the nurse is away. Or the first continuing education a nurse has received in the 9 years since he finished school. Or a chance to gently correct someone who's been working solo for several years and has started to stray from recommended practices.
But if it were just a few weeks of training their impact would be short-lived. Fortunately, long after they end the clinical mentor for Bassar prefecture will be going out each month to reinforce the material we covered, troubleshoot problems, and provide moral support. Not simply a brief training, but that ongoing partnership is what's truly going to enable a sick child in the village to get the treatment he needs when he shows up at the clinic.
And improving care in the clinics is only a tiny part of the overall picture. Services for pregnant women and children under age 5 will now be free, of tremendous importance when a lot of families are subsistence cultivators with minimal resources. Soon the community health workers will complete their training. In their villages, they'll identify pregnant women, sick children, or women needing family planning services and in simple cases provide treatment on the spot. Their work will integrate with the public clinics and they'll also be receiving ongoing mentorship and support from Integrate Health.
A few months ago, I did a Google search for Togo health NGOs on the off chance that I'd find a way to volunteer in this country that will always hold a piece of my heart. I couldn't believe my luck when I found Integrate Health – not only was it in Togo, but it was doing it all right. Somewhat skeptical, I questioned whether the reality on the ground would live up to what I read. Truly, it more than does.