At Integrate Health (IH), training and staff capacity-building are priorities, especially for Community Health Workers (CHWs), for whom the skills learned during their initial training remain the most important tools that they possess to effectively serve their communities. When first hired, CHWs are trained by a full team of trainers, some of whom are members of Integrate Health's program team and others who are government officials. How do these trainers effectively teach CHWs how to diagnose and treat leading causes of death in their communities? How do they keep these skills updated year after year?
Adult learners face unique challenges compared to other students. Teachers aim to convey new information to these learners without negating the lessons that adult learners have gained through lived experience. It is therefore fundamental for IH to ensure a safe, welcoming, and comfortable learning environment for their CHWs. Adults learn better when they feel respected and when their prior knowledge is highlighted in a positive and encouraging way. They are more receptive to new information when they see its immediate relevance to their lives. A proven way to build this encouraging environment is by creating opportunities for dialogue between participants, not just with the trainers themselves. Moreover, adult learners generally remember 20% of what they hear, 40% of what they see and hear, and 80% of what they see, hear, and do. These key insights are some of the principles of adult learning.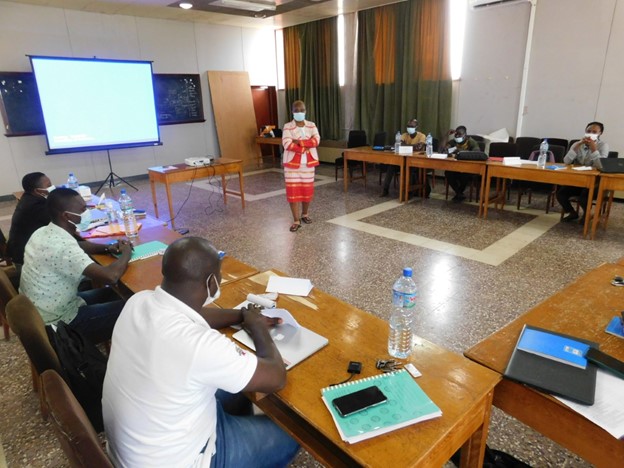 Although IH has an excellent team of trainers, the organization never misses an opportunity to reinforce the skills needed to improve ongoing trainings. These constant efforts recently led to a six-day workshop conducted by Anita Kouvahey-Eklu, IH's Deputy Country Director. Ten participants including clinical mentors, CHWs supervisors, IH's training coordinator, extension coordinator, and program director participated in this adult learning skills workshop. Using principles of adult learning herself, Anita designed the training to respond directly to participant feedback from past trainings. For example, the workshop covered the "learning by doing" method, elevating the importance of practical exercises in trainings for adults. The participants also brainstormed ways to create a positive learning climate to make participants feel safe and open. Finally, Anita lead a discussion on how audiovisual aids can facilitate a participatory presentation that engages learners in an effective dialogue.
Anita confidently expressed her satisfaction at the end of the training based on the pre-and post- tests, which showed that all participants improved their knowledge on adult learning techniques by 30% to 50%. IH Training coordinator, Brigitte Assih, greatly appreciated this workshop and thinks that adult learning principles are the foundation of all trainings she organizes at IH. "There were some shortcomings in the organization of trainings. This workshop was an opportunity that I was personally waiting for to improve the way I coordinate trainings for CHWs. Now, I feel fully prepared to pass on this training and its achievements to other people."
Adult learning principles are especially relevant to IH's CHWs and public sector clinic staff. Immediately after their recruitment, CHWs receive an initial training, followed by routine refresher trainings throughout their career. Though many of these essential workers have limited formal education, they posess critical experience from their background living in the communities they serve. Similarly, public health center staff are formally trained nurses and midwives with many years of experience, though they often have lacked the opportunity for continuing medical education. IH works to embrace lived experience and complement it with further clinical knowledge. The adult learning skills workshop equipped IH trainers with the tools they need to support frontline health workers in providing the best possible care to their communities.