Integrate Health is a data-driven organization. Being able to monitor and evaluate our program in order to make improvements has always been a priority. To do so, we instituted a high-quality, reliable, and secure data collection process. However, as the organization grew, both in number of employees and in the number of patients we served, our initial data collection process soon became obsolete. As we scaled and learned, we incrementally implemented changes that would make data collection and analysis fit our purpose. Today, we have a new tool that makes data collection and entry easy and keeps data secure and readily available for authorized use.
Moving away from Excel sheets
When we first launched the Integrated Primary Care Program, we collected and analyzed data using Excel sheets. Every month, the Monitoring, Evaluation, and Quality Improvement (MEQI) team centralized and analyzed the data that Community Health Workers (CHWs) collected in the field.
While this early-stage monitoring and evaluation process helped us keep track of our progress, the amount of data became too much to continue processing with Excel sheets. The need for an increasing number of sheets also led to data loss and security issues. As an organization dealing with sensitive medical data, we had the responsibility to do better and to safeguard the privacy and security of our patients' data.
In 2018, the government of Togo introduced the District Health Information Software II (DHIS2), a data collection tool aimed at centralizing health data nationwide. While the Togolese health authorities were able to make better informed decision with the DHIS2, Integrate Health still faced data management challenges. Head nurses were not systematically registering data provided by the CHWs into the DHIS2, and we were not able to track indicators specific to our program. We came to the realization that we needed our own data collection tool.
Inaugurating a new data collection tool
The E-Health and MEQI teams have worked together to develop an easy-to-use and secure platform inspired by the DHIS2 but designed to collect IH-specific indicators. After a long series of tests and bug-fixing, the platform is now ready for use on the web and on mobile devices. Both teams worked on digitizing paper-based reporting forms used by clinical mentors and CHW supervisors. The forms were digitized using DHIS2 and were designed to sync directly to Integrate Health's instance of the data warehouse.
The new data collection tool is thus more reliable. The data entered is made automatically available to the MEQI team in real time, which makes data analysis and visualization faster and easier. Problematic data can also be flagged, thereby improving the overall quality of Integrate Health's data collection system.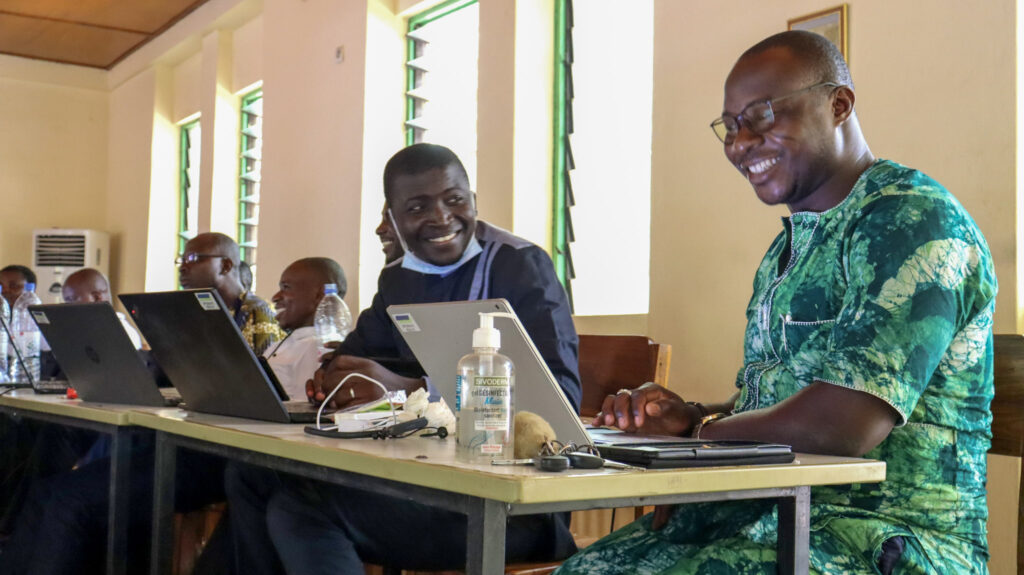 The E-Health and MEQI teams are now organizing trainings for clinical mentors and CHW supervisors on how to perform data entry on the new platform. Our Senior E-Health Software Engineer, Kossi Tsolegnagbo, who is leading these trainings, explains:
"Though there are still some bugs we need to fix, we are proud of the fact that we are developing a reliable data collection tool that will help Integrate Health get full access to data more quickly and in a secure manner. This will considerably reduce the use of paper, reduce the margin of errors in data entry, and avoid the loss of data."