June 21, 2017
All Staff Retreat 2017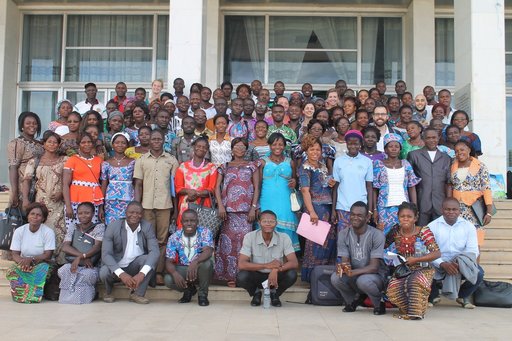 On May 26th, Hope Through Health hosted its second annual All Staff Retreat. With over one hundred employees spread out over 10 different locations throughout Togo, the retreat offered the chance to bring everyone together for one day to focus on our shared mission: delivering high-quality healthcare to neglected populations.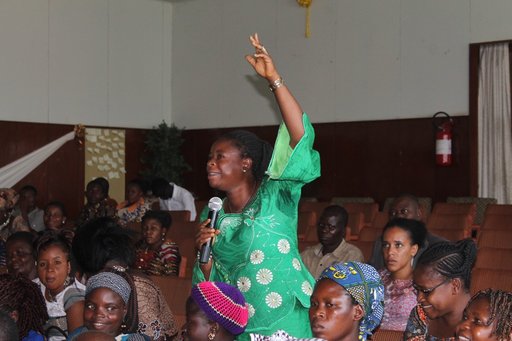 Not since last year have all Hope Through Health staff members been in the same place at the same time. With everyone from the groundskeeper to the executive director in attendance, the retreat was a way to both reinforce and reinvigorate the work that each person does for Hope Through Health. This year, the retreat was designed with the goals of reflecting on our collective successes and challenges and establishing a vision for the future, while building on the organizational values and systems that were put in place last year.
The day's program commenced with a reflection activity on the achievements of HTH. Everybody took some time to write down as many successes as they could think of since the beginning of Hope Through Health. They then posted their successes around the perimeter of the auditorium. "It was amazing to walk around the room and see how much we, as an organization, have accomplished," one Community Health Worker explained. "There were so many things I didn't think of, or things I didn't even realize!" Successes ran the full spectrum–everything from the concrete deliverables ("Construction of the maternity ward in Adabawéré," "Partnership with SoPro CFO to reinforce our accounting," "Massive reduction in mother-to-child transmission of HIV") to the less concrete yet equally, if not more, important changes in the community ("Reduction in stigmatization–Hope Through Health makes the question of HIV more ordinary," "Thanks to Hope Through Health, patients forget their sickness," "Children in my village no longer fall seriously ill").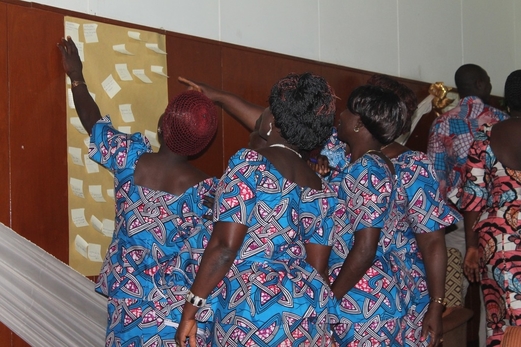 Having set the tone for the day, the activities continued with a presentation re-emphasizing the five organizational values of Hope Through Health: efficacy, empowerment, transparency, respect, and commitment. Now having worked for a year with these values as guidance, people were able to give examples of how each one impacts the work they do everyday. "I feel empowered when my supervisor entrusts me with an important task," offered one person. Another explained that her team thinks about efficacy every week when they're planning their work and examining what has and hasn't been accomplished by their self-imposed deadlines. The presentation concluded with an elaborate skit prepared by a few members of the staff that highlighted both good and bad examples of how these values can be implemented in the workplace, by the end of which everyone in the room was howling with laughter at the previously undiscovered dramatic skills of their colleagues.
After a morning reflecting on the past year, the afternoon was spent looking towards the future. In one presentation Christophe, Hope Through Health's Country Director, highlighted some of the major initiatives that Hope Through Health will be undertaking in the upcoming year: Community Health Workers themselves will start delivering family planning services to the patients they serve, and will collect data on cell phones instead of paper forms, thanks to a partnership with Medic Mobile. Hope Through Health will serve as a mentor to 20 public health clinics looking to improve pediatric HIV/AIDS care delivery. And perhaps most excitingly, the multi-staged expansion of our services to twelve additional sites will begin this year. Additionally, our model of team organization and meeting schedules that was adopted last year was revised. By taking the opinions and suggestions of the staff, an updated model was announced that would improve efficiency and effectiveness while maintaining the decentralized, team-focused organization that promoted open communication.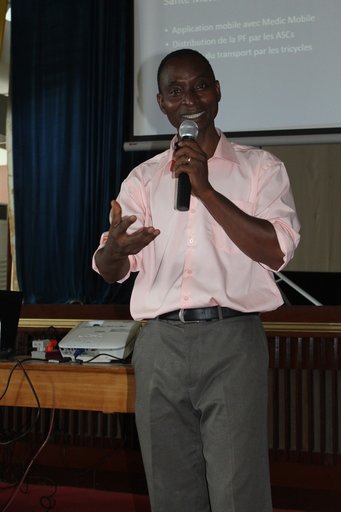 In keeping with HTH's value of transparency, the afternoon concluded with a productive town hall session in which all staff members were able to pose questions to the executive team. Many of the questions focused on situations in which staff wanted to be able to do more for the patients they were serving, and they were seeking out ways to do just that. Others served to clarify workplace confusions. The session left staff feeling that their opinions were valued and their voices were heard before the day's activities wrapped up with some words of conclusion and a big "family" photo.
On Monday, the clinics were open and work resumed as normal. People returned to their respective towns and villages, to their respective roles within this organization. But in the team meetings that morning, in the work carried out throughout the week, it was clear that people brought to their work a renewed sense of purpose and motivation, having seen everything that could be achieved in one year, and the potential for everything that they could accomplish in the next.