Infrastructure and Supply Chain-Strengthening is a key component of Integrate Health's Integrated Primary Care Program. Integrate Health works with a range of partners to transform public health clinics into buildings that match the quality of healthcare received inside. It is important that patients can access care in comfortable, hygienic, and well-equipped spaces. For renovation projects, Integrate Health works closely with our long term-partner Construction for Change, an organization with the mission to build spaces where people can become healthier, better educated, and have increased economic mobility. In May 2021, Construction for Change hired Togolese civil engineer Ayawavi Attisso as their project manager.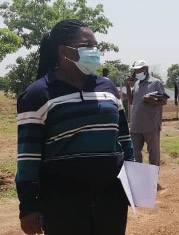 Ayawavi received her vocational diploma (BTS) in 2004, Bachelor of Science (2009), and Master of Science (2012) in civil engineering and Infrastructure. She is also an alumnae of the Special Program for Urban and Regional Studies (SPURS) at Massachusetts Institute of Technology (MIT). With over a decade of experience working in Togo and Benin, Ayawavi brings an invaluable skillset to the team. Aligning with Integrate Health's values, Ayawavi is committed to working for the well-being of communities. She proudly expresses her commitment: "I love working on these projects to bring better health to rural communities. It's very exciting too because we work with local engineers. It makes the work easier and allows us to move forward quickly."
As project manager, Ayawavi leads a team to ensure that the buildings are efficient and meet patient expectations. Before beginning the process of renovations, Integrate Health works with Construction for Change and the Ministry of Health to identify areas for health center improvement. In the community of Kpetab in the Dankpen district, where she recently worked, Ayawavi continued the work of her predecessor, Lillian Beauttah. Lillian developed strategies to address the areas of improvement identified by Integrate Health's and Construction for Change's assessment. Recommendations included the installation of a mini power station, which will ensure that the health center has a reliable source of electricity and water, allowing staff the flexibility to provide care when needed without worry; a ramp to facilitate access to the center; and an incinerator to properly manage waste disposal and protect the community at the same time. This preliminary work allowed Ayawavi to successfully manage the rest of the construction project on site.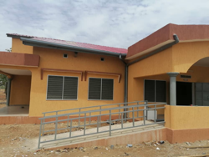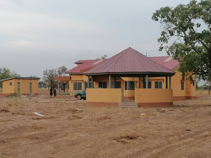 To date, the Kpetab Health Center has been successfully renovated. Thanks to Construction for Change and Ayawavi's incredible leadership, it is now equipped with electricity, water, a ramp, and an incinerator, and further improvements were made to the health center building itself.
In addition to her work on the renovation of the Dankpen Health Centers, Ayawavi is currently working alongside the Ministry of Health and their architect as part of Integrate Health's support for the construction of two buildings within the Infectious Disease Management Center. Her tasks include researching suitable candidates for this construction project, assisting the partner in selecting the best contractor for the project, and working with the selected contractors to ensure that the plans and construction meet the standards and requirements set by the Ministry of Health.
For many years, engineers and project managers from outside of Togo managed Integrate Health-supported construction projects. We are thrilled to see that they are finding exceptional Togolese talented staff like Ayawavi and promoting them to manage the construction projects.