Integrate Health is honored to announce that Anita Kouvahey-Eklu, Deputy Country Director in Togo, was recently the recipient of the 2022 Heroines in Health award from Women in Global Health (WGH).
Initiated in 2017, Heroines in Health is a global award recognizing outstanding women in health. Inspired by the wealth of talent of women working in health, Women in Global Health launched this one-of-a-kind recognition to celebrate women from all walks and backgrounds. The event, on the sidelines of the World Health Summit, provides Heroines with a platform to voice their greatest concerns to global leaders and to transform our societies to be more gender equitable in health.
From the front lines of the Ukraine war, to the remotest parts of Ethiopia, each of the 2022 award recipients have demonstrated outstanding contributions to deliver impact in their communities. As doctors, community health workers, gender advocates, and global health leaders, all have been working under the most extreme circumstances to deliver health.
As an experienced medical provider and advocate, Anita has championed LGBTQIA+ rights, women's rights, and Universal Health Coverage for two decades. In 2020, she joined Integrate Health and serves as the bridge between the organization and its partners, including the Togolese Ministry of Health, to achieve Universal Health Coverage. In addition to her essential work at IH, trains policemen about abortions so they can inform and support women, supports the rollout of sex education programming in schools across the country, and advises several LGBTQIA+ organizations working throughout West Africa.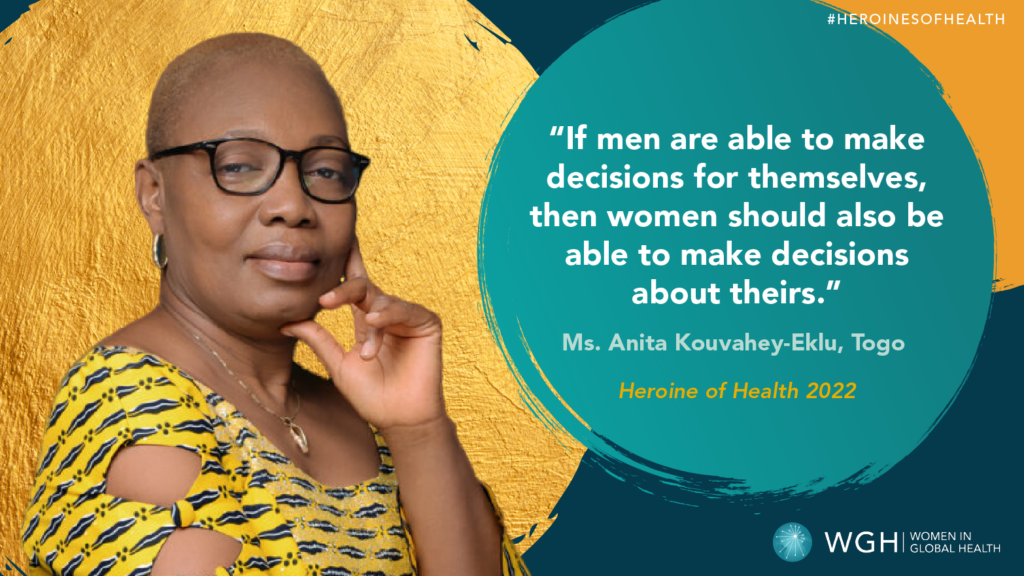 Unfortunately, Anita was unable to receive her award in person because her visa application to Germany was denied. Anita writes about this experience in a recently published Op-Ed in International Health Policies.
Please join us in congratulating Anita for this tremendous achievement! We're proud to work alongside Anita towards healthcare for all, beginning in Togo.
* Adapted from the Women in Global Health press release.