Toba Skon, a father of three, lives in the Agbanda community in Kozah district. Toba has worked as Community Health Worker in Agbanda for the last seven years. When he first moved there 12 years ago, there were limited health services in the community. The closest health center at Sarakawa, which is 8km away, was served only by a head nurse and a birth attendant. Rather than go to Sarakawa, people from Agbanda preferred to travel over 15km away instead to another health center in Tchitchao where there were more health personnel and where they received a better level of care. Alternatively, those who were unable to travel the distance would use the service of traditional healers instead.
The Integrated Primary Care Program (IPCP) was launched in Kozah in 2017 and Toba was among the first cohort of CHWs trained to serve communities around the Sarakawa health center. Integrate Health program team members explained, during initial community meetings, that their goal was to recruit women CHWs who would provide free care to children under five and to women in their communities. Toba was interested in the program and excited that free care would be available to the women and children in his community, including his own wife and children.
In subsequent community meetings, Integrate Health program team members encouraged women to apply for the open CHW positions however, there were few women in Agbanda who had the required education to meet the minimum qualifications. Men were eventually invited to apply for the positions and Toba was one of ten men who applied, and one of two men who moved forward in the recruitment process. In total, seven CHWs constituted the first wave of CHWs trained in Kozah and Toba was one of them. The CHWs were trained for three weeks on the management of childhood diseases such as malaria, pneumonia, diarrhea and malnutrition, and prenatal and obstetric care services.
Toba returned to Agbanda proud of having been trained and having acquired the skills necessary to provide care to his community. After the official program launch ceremony in Sarakawa, Toba began traveling from house to house looking for children under five to treat and pregnant or postpartum women to follow up. The work was not always easy, and Toba recalls a particular challenge he faced early on in his career as a CHW. He encountered a child who had a severe fever and was having convulsions. It was the first time that Toba saw symptoms as serious as these and he didn't know how to treat the child.
Fearing what could happen if nothing was done, he immediately took the child on his motorcycle to the Sarakawa health center so the nurse could provide better care to the boy. Fortunately, the head nurse knew exactly what to do and was able to save the child. The nurse also gave Toba some tips on how to reduce a fever the next time he was in such a situation.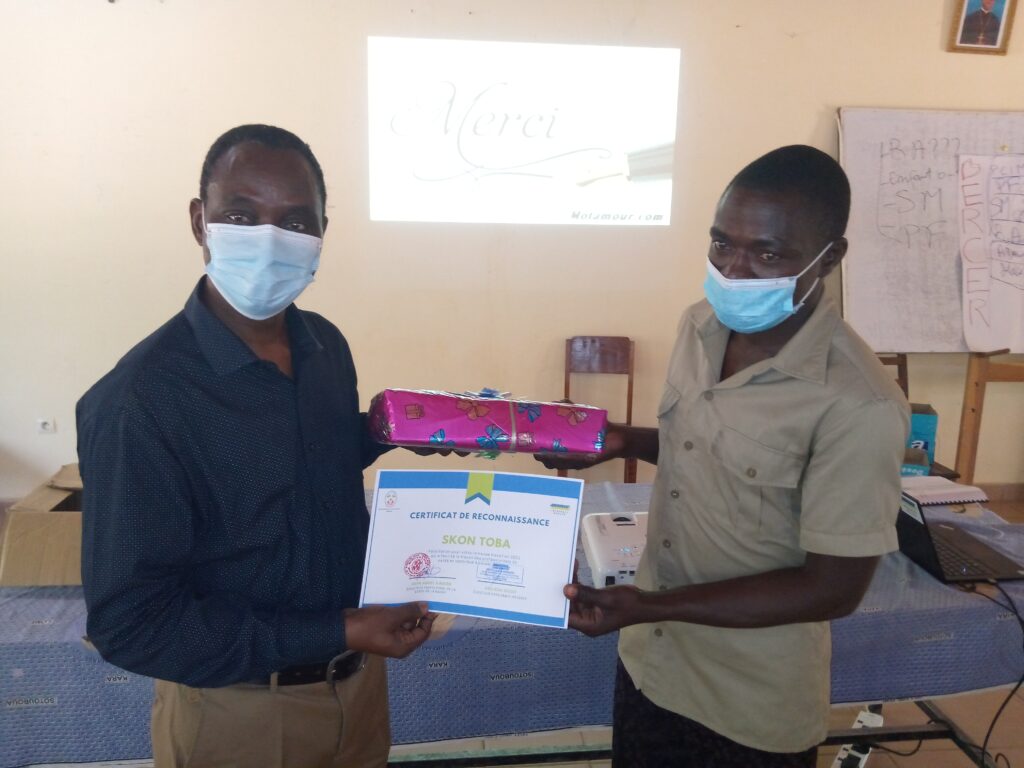 Toba has gained the respect of the community in Agbanda because of the amazing work he does. He also feels supported by Integrate Health not just through the trainings he receives but for recognition of his hard work. In 2022, he was given an award by Integrate Health for being one of the best CHWs serving the Sakarawa area in the previous year. Toba is grateful that he is able to make a living from this work; a living which helps him take care of his family, send his children to school, repair his motorcycle and buy gifts for his wife.
"I would like to express my gratitude to Integrate Health for thinking of Sarakawa and my community the implementation of this program which is very beneficial for the surrounding populations. Thank you also for this opportunity and chance that you are giving to women to be essential links in their respective communities in providing quality health care to other women and children. This work and remuneration allow them in turn to be able to support their families by helping their husbands with daily expenses, which is a great plus and a great asset for them. If my wife had the educational level required, I would have encouraged her to apply as well. Two salaries at home are still better than only one." 

Toba Skon, Community Health Worker from Sarakawa