Collaboration is one of Integrate Health's six core values. Integrate Health has never and will never go at it alone. Guided by patients and alongside government, Integrate Health collaborates with partners to transform the way healthcare is delivered. Pozobendou Solange Possoli (Solange), bilingual administrative assistant, fosters seamless communication among Integrate Health teams and with external partners, ensuring the collaboration necessary to make high-quality healthcare accessible to all.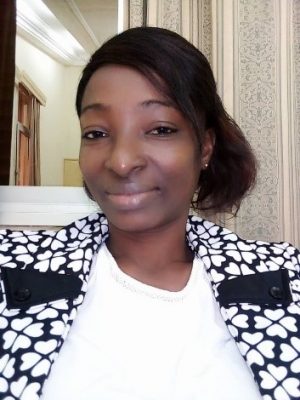 Solange works closely with Integrate Health's Country Director, supporting his daily activities and key projects. For example, she manages his schedule and all external and internal communications. Beyond her work with the Country Director, she supports other teams to help them collaborate effectively. This includes drafting and sending emails, memos, and reports, and helping with key administrative tasks such as recruiting new staff. Solange lends her communication and administrative skills directly to the Integrated Primary Care Program by coordinating health center construction. Solange liaises with Construction for Change and oversees the construction process for all health centers supported by Integrate Health. Beyond her role, Solange is committed to supporting her colleagues to collaborate, learn, and grow. She organizes Integrate Health's weekly English club, which provides a chance for her colleagues to improve their English.
Solange has extensive experience as an executive assistant. After obtaining a master's degree in English at the University of Lomé, Togo, she began teaching English during the day while she was taking evening classes in executive secretarial studies. After obtaining her Administrative Assistant diploma, she worked for several organizations as a Management Assistant, Assistant Interpreter, and Translator.
Solange joined Integrate Health in August 2020 with a passion to elevate organizational systems and facilitate Integrate Health's partnerships. She believes deeply in Integrate Health's mission and is driven to make an impact. As Solange says, "Everyone, regardless of where they live, should have access to quality primary healthcare. Actions must be taken, and this is what we are doing at Integrate Health."