Community Health Worker Supervisors play a key role in making sure that healthcare provided by Community Health Workers (CHWs) is high quality. Part of this work is ensuring that CHWs have the support they need. Supervisors act as coaches for CHWs. They spend their days with CHWs, accompanying them on patient visits to observe and then offer personalized feedback and encouragement. Supervisors provide ongoing training and help problem-solve challenging cases. They act as a liaison between CHWs, the health center, and community members, fostering trust—a foundational element of a functioning health system. Integrate Health is excited to have MANGBASSIM Tchara Essomouna, commonly known as Yvette, join the team of CHW supervisors in the Binah district.
Yvette joined Integrate Health in December 2021. She has a strong background in maternal health. After completing her studies at the National School of Midwifery in Togo, and becoming a midwife, she worked in various health centers over the past seven years, supporting pregnant and postpartum women. Yvette is dedicated to helping women through the hardships they encounter while giving birth and always sets ambitious goals for herself. She thrives on overcoming new challenges and doing better than the day before.
For Yvette, being a supervisor means helping the most vulnerable get better access to and quality of care. Not only does she coach CHWs, but she also works closely with community leaders on specific issues such as family planning and pre- and post-natal care. Being a supervisor requires not only technical knowledge of medicine but also the ability to teach, to get people on the same page, and to empathize with the problems of others.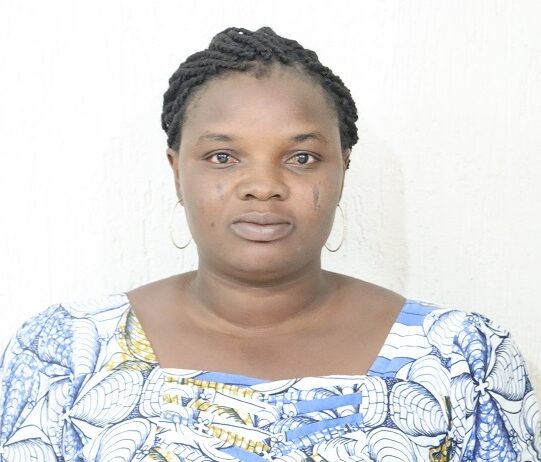 Yvette thrives in those capacities and takes great pride when she sees a CHW getting better or the smile on a parent's face when their children receive treatment. For her, passing along her knowledge to somebody else is the most rewarding aspect of her job. Moreover, this job is what sustains her and gives her financial independence. This is very important for women in Togo, who often don't have equal access to economic opportunities. On that note, Yvette has a message for women in Togo:
"I want to tell them to fight, but most of all to dare! While women's voices are recently being heard for better protection and gender equity, I believe it is time to show how strong and capable we are. Wherever we work, we work hard and do our best."