On July 20, 2023, Integrate Health officially launched the pilot of the Integrated Primary Care Program in the Kouroussa district in Guinea. Over 300 participants attended the event, including representatives from INGOs, Guinean local and national government, civil society, community leaders, and health workers.
This event marked the start of activities in Guinea, where Integrate Health will strengthen the implementation of the government's national community health strategy. The event was organized to mobilize all stakeholders who will be involved in the implementation of the Integrated Primary Care Program in the Kouroussa district. Gathering everyone before the core activities start is a way to increase ownership of the program, inform everyone about the program, and showcase our commitment to support the Ministry of Health in achieving its Universal Health Coverage goals.
Celebrating the spirit of communities and the hope the Integrated Primary Care Program is bringing, the event kicked off on a joyous note. The day started with a giant carnival parade where participants marched through the center of town from Integrate Health's office to the community youth center, led by professional dancers and government officials. Once all participants were installed at the youth center, Moussa Kourouma, mayor of Kouroussa, took the floor to express his gratitude to Integrate Health for choosing the Kouroussa district as its pilot area. He expressed hope that soon, Integrate Health will cover the entire Kouroussa district so that women and children under five have access to quality primary healthcare.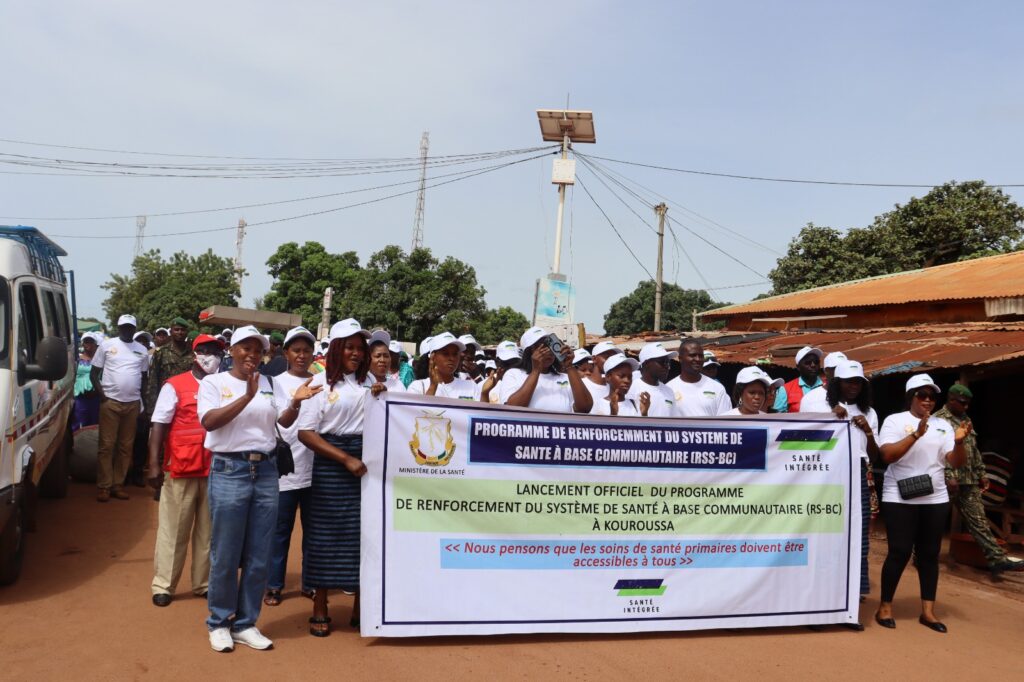 Dr. Kourouma Mamady, Director of Community Health with the Ministry of Health, joined in to highlight how this program would fill the void left by Doctors without Borders (who recently ended a project in the area), marking a new era in community-based healthcare through Community Health Workers delivering primary healthcare services. As he said during Integrate Health's strategy launch event, "We are counting on Integrate Health to support the Ministry of Health, starting in the Kouroussa district, and bring other partners to adopt the same approach elsewhere." He was followed by Colonel Moussa Condé, governor of Kankan, who urged the local population to support and accompany the project, echoing a collective responsibility for the health and well-being of the community. The governor made the official launch announcement.  
In essence, this day was much more than just an event. It symbolized the commitment of Integrate Health to improve access and quality of primary healthcare in Guinea, starting in the Kouroussa district. It embodied the hope that authorities and communities carry for a healthier future.
This hope extends well beyond the Kouroussa district, so that one day, everywhere in Guinea and West Africa, everyone will have access to primary healthcare without financial constraints. We at Integrate Health remain hopeful too that this pilot will be a beacon of success, and together with our partners, we strive to improve the health and well-being of the hardest-to-reach populations.