Integrate Health's mission is to make quality primary healthcare accessible to all. Working with governments and local communities, Integrate Health has developed and demonstrated the effectiveness of the Integrated Primary Care Program (IPCP), an approach that integrates professional Community Health Workers (CHWs) with improved care in public clinics to strengthen primary health care delivery. Integrate Health now supports governments in implementing the political and financial reforms needed to scale up this approach and achieve Universal Health Coverage (UHC).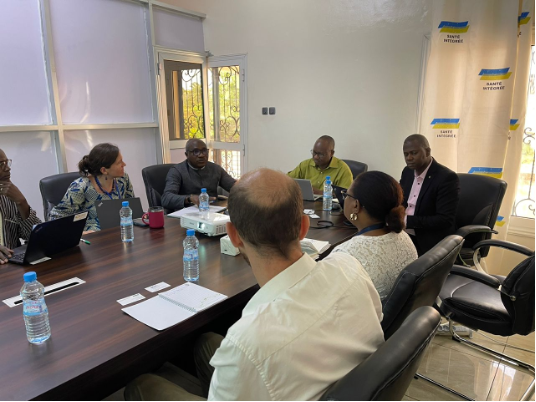 Guinea selected as first expansion country
After a two-year period during which it considered country expansion and conducted scoping analysis and research, Integrate Health chose Guinea as its first expansion country. Guinea was selected on the basis of compelling need, strong political will, an explicit invitation from the Ministry of Health, and an evidence-based national community health strategy aligned with the Integrate Health approach. In April 2022, Integrate Health organized a workshop with stakeholders and decision-makers from the Guinean Ministry of Health (MOH) and other key partner organizations to identify key priorities for the partnership agreement and work plan.
One year later, in June 2023, Integrate Health has twelve full-time staff in Guinea and is supporting the Ministry of Health and Public Hygiene, while designing a primary healthcare delivery program to be launched in July 2023. The objective in Guinea is the same as in Togo: to support governments and civil society in implementing community health programs, and studying and scaling up key primary healthcare innovations. To ensure effective implementation, Dr Aboubacar Nassagbè Diakité, who has a solid understanding of local health systems and experience of working with international NGOs, has been hired as National Director of Integrate Health from February 2023.
About Aboubacar
Aboubacar Nassagbè Diakité was born on October 10, 1984 in Bouaké, Côte d'Ivoire. He is married with four children. He is of Guinean nationality and lives in Conakry, the capital of Guinea. Aboubacar holds a doctorate in medicine and a master's degree in biostatistics from the Gamal Abdel Nasser University in Conakry. He also holds a master's degree in public health, specializing in family, sexual and reproductive health. He has also obtained certificates in financial administration, project management and the monitoring and evaluation of development projects and programs. Aboubacar is currently pursuing another master's degree in health organization management.
Aboubacar has 14 years' experience in health program and project management within national and international institutions. His expertise includes program design, planning, monitoring and evaluation, reporting, administrative management and advocacy, community capacity building programs and results-based management.
Aboubacar played an active role in the response to the 2014 Ebola virus disease in Guinea. During the outbreak, he worked with Save the Children as a regional and cross-border coordinator between Guinea, Mali and Côte d'Ivoire, building the technical capacity of frontline Ebola response workers. In 2015, he continued his work in Ebola response with Unicef, developing communications and behavior change programs for over 15 different organizations. Thanks to his extensive expertise and analytical skills, he was able to provide Integrate Health with a solid analysis of the health system in Guinea as a consultant. Aboubacar's in-depth knowledge and first-hand experience of the challenges communities face in accessing primary health care are essential for Integrate Health as we embark on our journey in Guinea, the first time we have worked beyond Togo.
The collaboration
Aboubacar was attracted to Integrate Health because of its commitment to working alongside the government and other local partners from the outset. Collaboration is one of Integrate Health's core values, and Aboubacar infuses this value into his team's activities. It was Aboubacar's idea to organize the April 2022 workshop to present Integrate Health and define the components of its work in Guinea in collaboration with the Ministry of Health and Public Hygiene and the Technical and Financial Partners. The response from the government and partners was extremely positive. Health ministry directors said they felt seen and heard and were deeply grateful to Integrate Health for coming forward to listen first, and then to act.
Since then, Aboubacar has been working closely with the Ministry of Health and Public Hygiene and other partners (including Gavi, Last Mile Health etc.) to identify the country's needs and priorities in order to inform Integrate Health's strategy. Today, Integrate Health is a member of the international NGO platform in Guinea. This collaborative working group is essential to ensure that all partner activities are aligned and contribute to achieving the government's Universal Health Coverage goals and vision.
The Guinean Ministry of Health and Public Hygiene invited Integrate Health in Guinea to partner with them to fill gaps in the implementation of their community health strategy. The Minister's office then identified the Kouroussa district as an area that could benefit from Integrate Health's support. Integrate Health then partnered with the Kouroussa District Prefectural Health Directorate to carry out a landscape analysis to better understand the context of the health system in the district. Together, the Kouroussa Prefectural Health Department and Integrate Health identified five rural communities cut off from the rest of the district by the River Niger, where health indicators are particularly low. Integrate Health will pilot the Integrated Primary Care Program, adapted to the Guinean context, in these five catchment areas.
Integrate Health's integrated primary care program is directly aligned with the Guinean government's national health development plan and its goal of achieving Universal Health Coverage based on a strong community health system. Aboubacar says: "I see my new role as ensuring the implementation of the Integrate Health pilot program in Guinea, and I fully endorse the encouraging words of Dr. Kourouma, National Director of Community Health, who said: ''Go where the need is greatest. Look at the system and see where the gaps are. What innovations can help us fill those gaps.''